Hard Bound Art Journals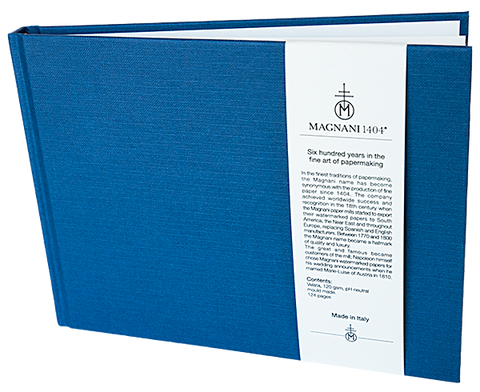 Journals, an artist's essential companion. Exquisite hard bound art journals
These beautiful and popular art journals are hard bound and made from the finest quality book paper.
Journals or sketch books made from Velata Avorio book paper 120 gsm, hard bound in a variety of sizes
The perfect art journal, visual diary or sketchbook. These journals are long wearing and durable. The high quality of paper means that your drawings, sketches and paintings will last with integrity.
Add an element of crafted beauty to your daily life.
Whether at work or at home, these Magnani art journals bring a touch of elegance to your personal notes, journal writing or correspondence. As beautiful to touch and hold as they are to write or draw in, connect with a unique and timeless elegance every time you write a thought, a to do list or pen a sketch.
They are also a perfect gift for those who love the finer things in life
Perfect for friends or family members who appreciate the craft involved in paper making and book binding. Or just those who love owning beautiful objects. A Magnani art journal is a wonderful gift that will be treasured forever.